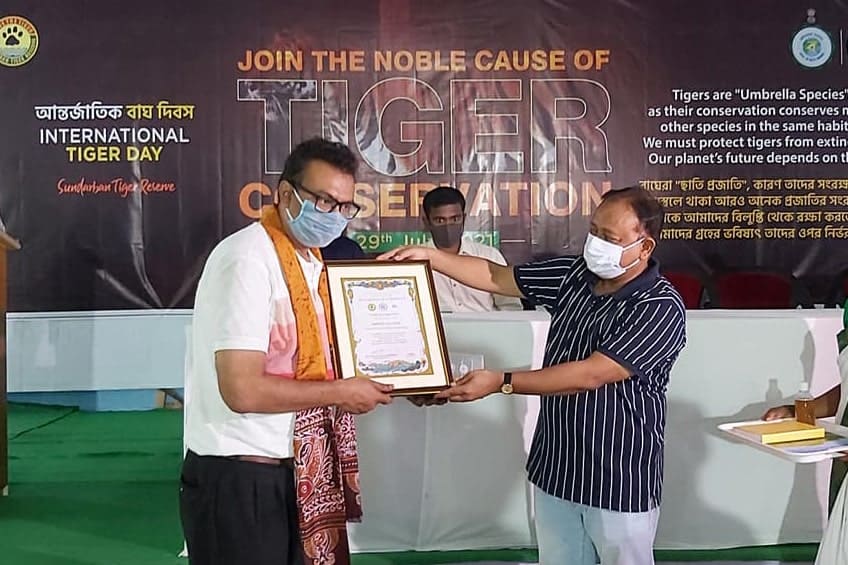 FELICITATION BY SUNDARBAN TIGER RESERVE
As ambassadors of AIM Foundation, every opportunity to partner with the Department of Forest, Government of West Bengal in our efforts to make a difference in the lives of the communities in Sunderbans has been truly inspiring. These engagements provided a fulfilling experience, reinforced our sense of purpose and perspective, a time of meaningful empathy, reflection, appreciating life and the unique opportunity to serve.

We are humbled that the Department of Forest, Government of West Bengal, has felicitated AIM Foundation on International Tiger Day on 29th of July, 2021 for our unconditional support and contribution to the people of Sunderbans. This has strengthened our resolve and determination to fulfil our mandate in reaching out to and uplifting the under-privileged.

I take this opportunity to convey my immense gratitude to our continued supporters - CESC Limited, Spencer's Retail Limited, West Bengal Orthopaedic Association, Narayana Health, Income-tax Sports and Recreation Club, Nexval Infotech Private Limited, Penguin Trading Agencies Ltd, Hindustan Charity Trust, 1959, Shri Badri Vishal Jankalyan Trust, Chapparia Charitable Trust, Students Health Home, Ex-Students Association of Ramakrishna Mission Vidyapith, Purulia and all our members without whom supporting these families would not have been possible.