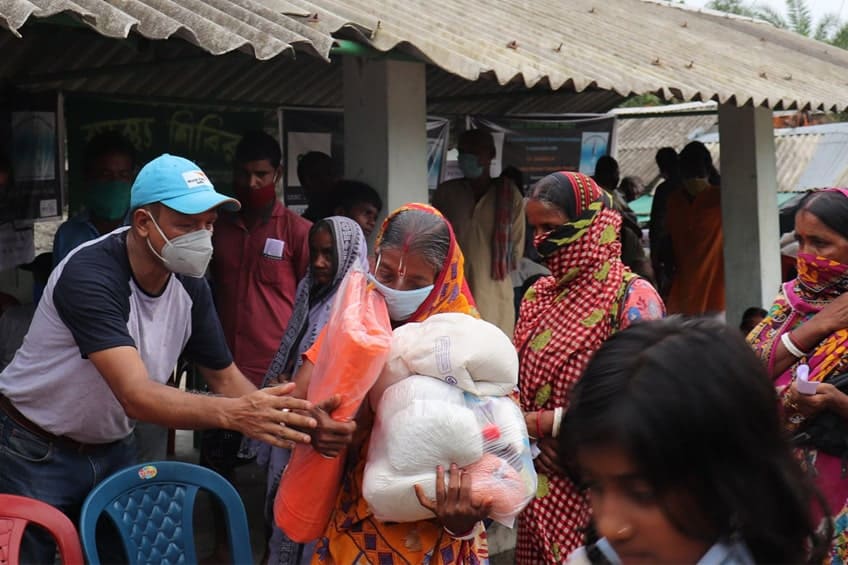 YAASH RELIEF AT BALI ISLAND, SUNDARBANS,
AIM foundation relentlessly continues to arrange for relief after the onslaught of YAAS and during the ongoing pandemic.

This time we reached Bali Island nearly 90 km from Kolkata, about an hour boat ride from the mainland.

AIM Foundation along with Ex-students Association of Ramakrishna Mission Vidyapith Purulia distributed relief items - rice, wheat, dal, cooking oil, chire, spices (turmeic, coriander, cumin, chilli powder), soyabean, salt, sugar, zeoline, and tarpaulin sheets for 300 families on 20th June, 2021..

AIM foundation believes in reaching out to as many people, for as long as possible and as far as possible.

A special thank you note to Sri Tapas Das, Field Director, Sunderban Tiger Reserve for the infrastructural support. Immense gratitude to CESC Limited, Nexval Infotech Private Limited, Hindustan Charity Trust 1959, Rakesh Foundation and Prayash Foundation without whose support these ventures would not have been possible.

We are committed and take the pledge to repeat the same with generous help from our well-wishers.