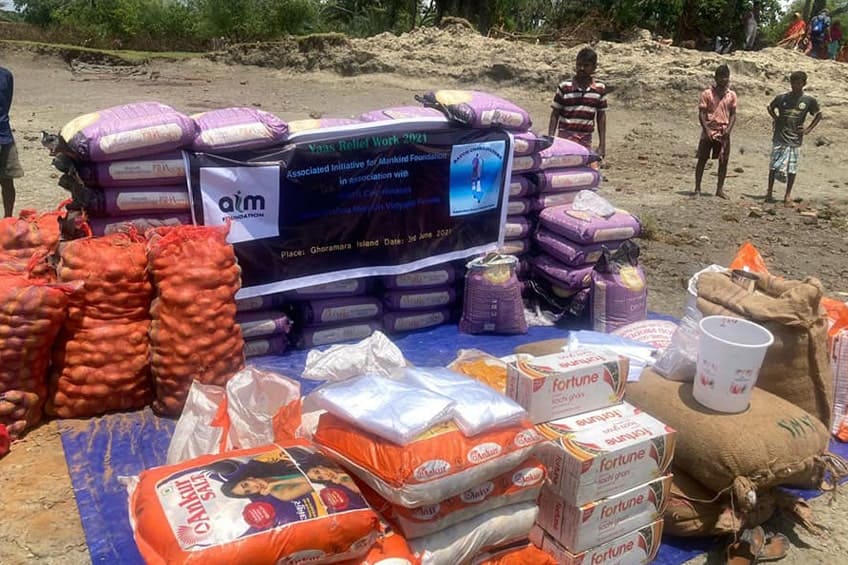 YAASH RELIEF AT GHORAMARA ISLAND, SUNDARBANS
Misfortunes never come singly. As we were fighting the 2nd wave of Covid 19, the astronomical high tide due to cyclone Yaas engulfed the coastal areas of Bengal with misfortune. Many islands of Sunderbans were submerged in water.

During these dreadful times, AIM Foundation once again found it's way to stand by the unfortunate residents of the islands of Sunderbans.

We at AIM Foundation are of the opinion that we can serve the community better and at large if we all work hand in hand. Hence, we have tied hands with different organisations, like Indian Orthopaedic Association, Income-tax Sports and Recreation Club, Ex-students Association of Ramkrishna Mission Vidyapith Purulia, Students of Bose Institute, NSS Dpt of Jadavpur University and many more grass root level NGOs.

AIM Foundation and Ex-students Association of Ramkrishna Vidyapith Purulia have reached Bagpara and Kashimara Gram, Ghoramara Islands, Sunderbans with rice, dal, cooking oil, puffed rice, turmeric, salt, sugar, potato and soap.

With flooding from rivers overtopping from banks or breaking through dykes, the villages and farm lands are submerged in salt water. This makes the lands non eligible for farming for atleast a year. Moreover, there is no place for the cattles to graze.

Houses are washed away and numerous people are living in temporary tents.

There are dead fishes floating everywhere. The tubewells are contaminated and the villagers are at a great health risk in the coming days.

Apart from relief, primary health camps with medication are also immediately required to keep infection at bay.